By Catherine Barrett
(B.Sc.Kin)
Did you know that Lacrosse is one of Canada's two national sports? It was named the official summer sport in 1994. Lacrosse is a contact sport in which the object is to score points by shooting the ball into the opponent's net while keeping the opposing team from scoring in your own goal. Using a lacrosse stick, players are able to catch, carry and pass the small rubber ball.
There are two types of Lacrosse: Field Lacrosse and Box Lacrosse. Some differences between the two include stick lengths, goal lengths, goalie equipment and playing field. Field Lacrosse is played on an open field whereas box lacrosse is played in a hockey arena where all the ice has been ice out: on a concrete court.  With the decreased size of the court, Box Lacrosse tends to be more of a physical game.
There is very little equipment worn in the sport of Lacrosse. Only helmets, shoulder pads, and chest and arm protection are required. Cleats are necessary for Field Lacrosse, while running shoes are worn in Box Lacrosse. It is hard to find the perfect pair of running shoes that allow for protection as well as the traction and cushion needed to play on concrete. A good running shoe has a strong heel counter, increased arch support, a good flex point and increased torsional stability.  Most Box Lacrosse players wear either a volleyball shoe for traction and or a basketball shoe for protection. The Asics Gel-Volleycross Revolution MT and the Asics Gel-Sensai 4 MT combines the cushioning system of a running shoe, the higher height of a basketball and the increased traction of a volleyball shoe.
Lacrosse is an adrenaline pumping, rough, exciting spot, and a great alternative to hockey. If you want to experience something new this summer, go check out a Toronto Rock game or sign up to play for a Lacrosse team.
Asics Gel-Volleycross Revolution MT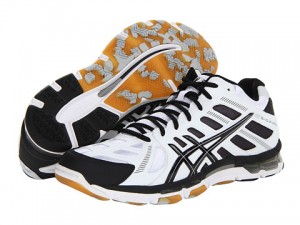 Asics Gel-Sensai 4 MT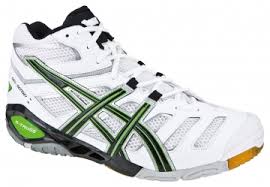 Visit us at www.miltonOrthoticWellness.com