Call us to schedule in your appointment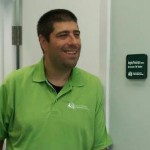 Angelo Posteraro
Founder & Director Of Sales
About Us
Milton Orthotic & Wellness Centre is a strong supporter of many community organizations and proud sponsor of several athletic and recreation teams in Milton. We Specialize in Custom Orthotics, Fashionable Shoes, Compression Socks, Bracing (Knee/Ankle) and Massage Therapy.
Custom Orthotics help with Back Pain, Heel Pain (plantar fasciitis), Flat Feet (pes planus), Knee Pain, Hip Pain to name a few. Orthotics for sports; Hockey, Running, Cycling, Soccer, Football, Basketball, Skiing and many more Orthotics.
Our professional staff of Pedorthists strive to educate and inform you as to the best approach for treating your biomechanical abnormalities. Whether it is a custom orthotic you need, or an off the shelf product, a brace, the appropriate shoe for your foot type, make an appointment to visit with one of our friendly, knowledgeable team members. Please remember to bring any old orthotics and 2 pairs of footwear you wear regularly to your first appointment so that we can analyse your footwear.
Milton Orthotic & Wellness Centre is a strong supporter of community and athletic organizations which seek to advance sports among youth players in the Milton community, within a safe, healthy environment that fosters the development of individual and team skills regardless of ability, encourages fair play, enjoyment, and the values of good sport, and promotes co-operation and mutual respect within the athletic community
Milton Orthotic & Wellness Centre is located at 1009 Maple Ave, (In the plaza near Steeles ave. and Thompson rd.)