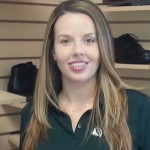 By Shannon White
(BAHSc. CAT (c) Certified Athletic Therapist)
If the rumors of this winter being a repeat of the last year come true we will have excellent skiing and snowboarding conditions until Easter!  In the past few years we have seen many avid skiers looking for better comfort inside their stiff boots.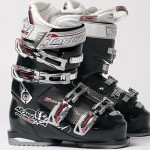 Although I myself have been scarred for life by a traumatic ski lift experience, I hear it is a very enjoyable pastime when your boots fit well.  When fitting for ski boots it's common practice to place off-the-shelf heat molded footbeds inside.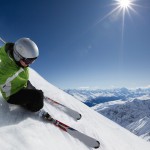 It was through hearing about this process that led us to develop our custom orthotics with a toe crest.  A patient described to me how his modified footbeds felt like they had a ridge and small indented areas that fit his toes perfectly.  Being a non-skier the importance of this had never occurred to me.  Ski boots are so rigid, so of course it feels better to have the sensation of your foot being surrounded in every nook and cranny!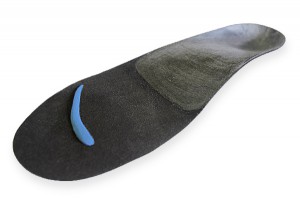 A custom orthotic starts with the molded shell, which is then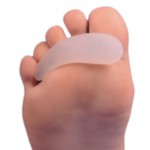 covered with cushioning top and bottom material.  A toe crest (pictured above without a top cover) is a small piece of foam sandwiched between the layers of the orthotic.  This sits in the sulcus of the foot, the curved area of your toes at the end of your forefoot (pictured left).
If you're hoping to fit custom orthotics inside your ski boots this winter make sure you bring your boots to the appointment.  The clinician will assess their ability to hold an orthotic and take a tracing of the current liner.  No need to leave your boots with us, you can continue to use them while your orthotics are being made.
Testimonials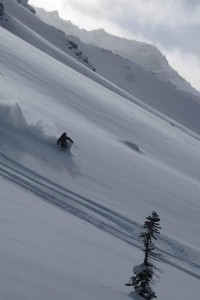 "For those skiers in Milton, check out the Milton Orthotic and Wellness Centre and be sure to put your new orthotics in your ski boots. Everyday I'm on the hill I have mine in!"
Travis Gerrits
Canadian Olympian Aerial Freestyle Skiier
"Just got back to town from beautiful British Columbia, from my "test mission" of my new orthotics. They are absolutely amazing, I racked up 54,000 vertical feet, of virgin powder in 3 days! My ski boots are like slippers, I have never been more comfortable. Thanks for the great job!"
Bill Robertson
Are Your Feet Tired , Sore & Numb? Orthotics will alleviate foot, knee and back pain. And, yes… you can put them in your ski or snowboard boots.