By: Angelo Posteraro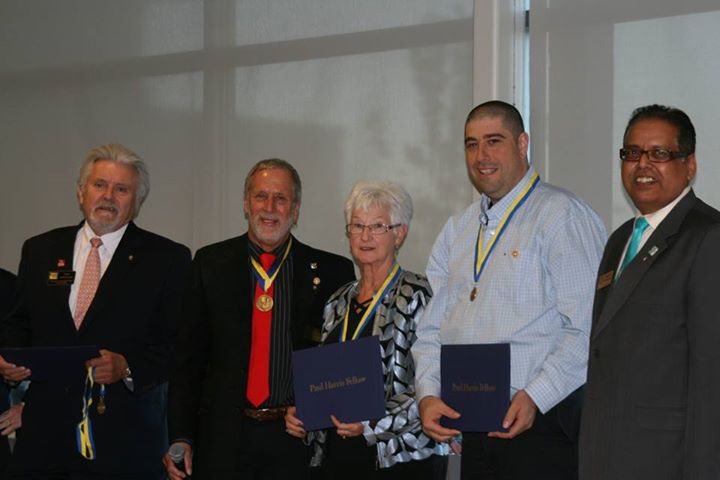 Now I am very humble in sharing a story that was a surprise and is dear to my heart. Recognition is so important even though it makes most of us feel uncomfortable.
A couple of months ago Ries W. Boers from the Rotary Club Of Milton invited me to their awards presentation as apparently a friend of mine Rod McLachlan was to receive an award and I was told that he had no idea he was receiving it. Ries convinced me that being there to support Rod was important. Well, I made myself available and made sure that I was present.
Well, they had announced the presentation of an award called the Paul Harris Fellow and the words "Angelo Posteraro" were announced and echoed around the room. I was in total shock and Carlanna Sdao turned to me and said "Do you know how big of a deal this award is? Congratulations" I had no idea and went up to receive the award from Ries, who I extremely admire and consider him a mentor. It could not have come from a better person. Rod, apparently knew that I was receiving this award the whole time. Here is the kicker, Rod also received the same award and he had no idea. LOL Funny how things happen sometimes and Ries played us perfectly.
I am a member of the Optimist Club Of Milton and on the executive board as a Director. To have this award presented to me from a Rotarian means that much more.
Here is a little background of the Paul Harris Fellow award…
"The Paul Harris Fellow Award is the highest honour a club can bestow on a person, either inside or outside the club. The award therefore acknowledges "service above self" which that individual has offered to their community, their nation or indeed to the world. Paul Harris was the founder of Rotary and this award program was created to fund many Rotary Foundation programs. Members of the club must have collectively contributed US$1,000 to the Rotary Foundation for the privilege of recognizing a person in this way."
Thank you Rotary & Ries Boers for recognizing me for my efforts. As important as it is to be recognized I find it really weird. It comes so natural to me and I always give from the heart. Aren't we supposed to give back anyways?
Thanks for listening,
Angelo Posteraro – Founder & Director Of Sales – Milton  Orthotic & Wellness Centre