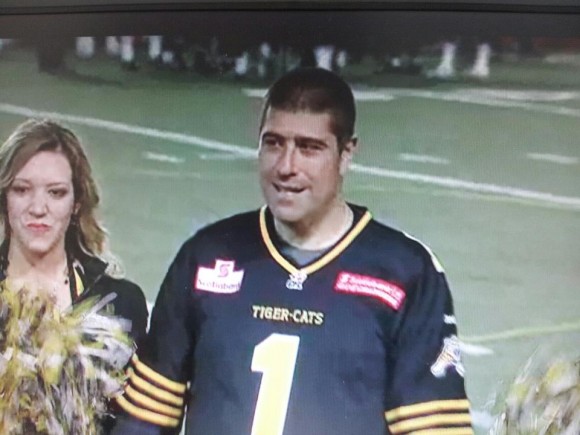 December 4, 2012
Between supporting a seemingly endless list of local charities, sports teams, and community organizations; running his business, Milton Orthotic and Wellness Centre (miltonorthoticwellness.com); and squeezing in time to enjoy all that Milton has to offer, Angelo Posteraro still managed to sit down with Discover Milton and talk about the town and its people that hold such special places in his heart. We talked with the Scotiabank Game Changer nominee and here's what we found…
By Tanya Presse www.discovermilton.com
We'd love to tell you about each and every important charity, organization, and community initiative that Angelo Posteraro is involved in, but to be honest, that would take up the space of this entire article. So before we get to the condensed version, we'll start by telling you a bit about Posteraro and his background. He and his wife, Enza—they've been married for 18 years and she is the person he credits for making him able to do all that he does—moved to Milton about five years ago. Since then, they've set-up their home, a business, and a reputation as charity-enthusiasts in the community. Posteraro loves that his business is in the same town as he lives: "Because we live in Milton, it made sense to open our business here. Plus, it gives us an opportunity to do the charity work that we are so passionate about," he says. Even his business is about helping people, as he explains: "We want to help people maintain a healthy lifestyle. We are very active growing up, and as we get older, life happens and we become less active. We are very passionate about getting that person back to doing the active things they once did. Whether they had an existing injury that has prevented them from staying active or a busy lifestyle, we want to help!"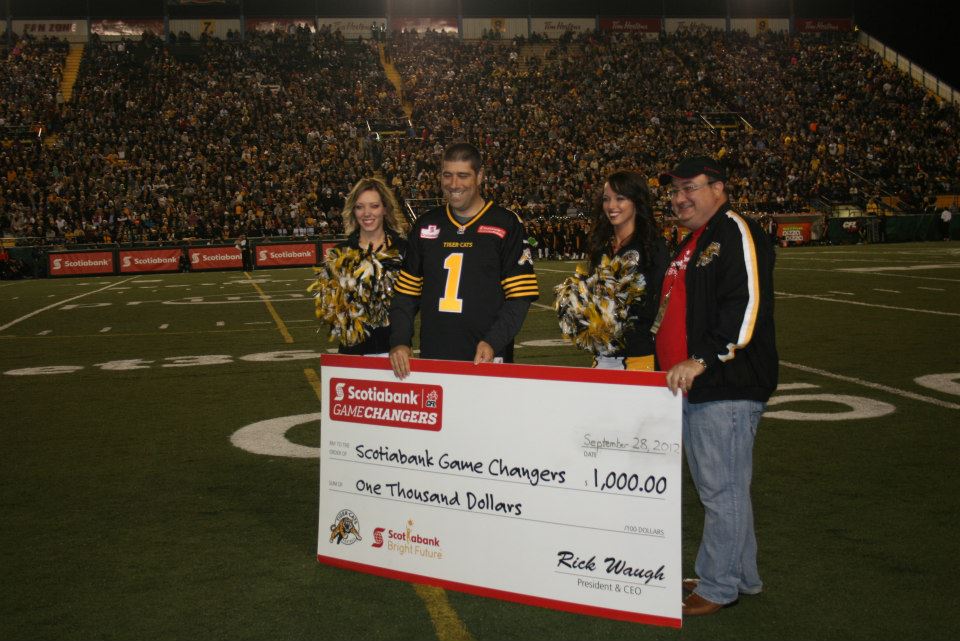 Posteraro knows a thing or two about wellness, and not only because of the business he established but because of his recent weight loss journey. But Posteraro didn't just aim to shed some pounds for himself; he re-imagined his personal weight loss goal as a means to raising awareness about living a healthy lifestyle , as well as a means to fundraise for a local youth centre. "It was a great way for me to become accountable [for my weight loss] and at the same time, help out the kids of Milton. I had about 45 sponsors that were donating based on every pound lost. The fundraising was for The Deck Youth Centre in Milton." The Deck (thedeckmilton.com) offers teens and preteens a safe place to relax, socialize, receive mentorship and counseling, and have fun in Milton.
Supporting charity events that support children are some of Posteraro's favourite causes, like Journey for Jacob (facebook.com/JourneyforJacob), which, as we mentioned in previous posts, raises money to help four-year-old Jacob Avery Middleton and other children fighting cancer. This cause, which Posteraro cites as being "very close to my heart," propelled him to start a fundraiser at the Italian Canadian Club of Milton (iccm.ca), where Posteraro serves as Vice President. "We were part of a fundraiser for Journey for Jacob at [the club], where we raised $18,000. Jacob and his family have been an inspiration to us all!"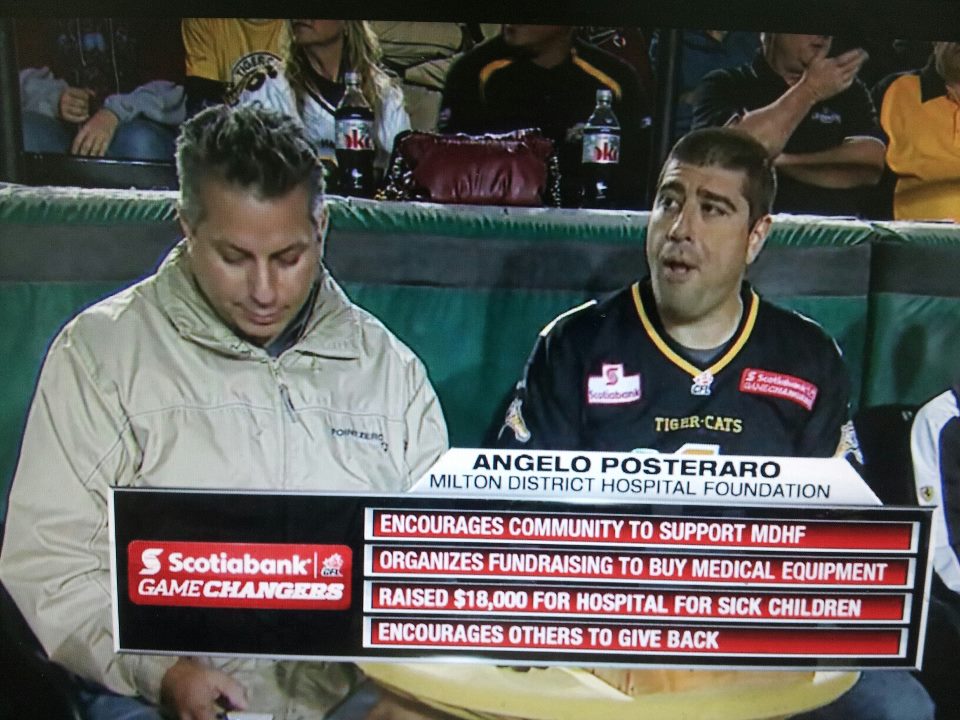 Other inspirations for Posteraro include countless local sports teams and athletes, like the Milton Winter Hawks (miltonwinterhawks.com), the Milton Marlin Swim Team (miltonmarlins.ca), and the Milton Youth Soccer Club (miltonmagic.com), as well as individual athletes like Olympic skier hopeful, Travis Gerrits and Toronto Blue Jays draft, Nathan Desouza; all of which, Posteraro supports and sponsors. On top of this are the aforementioned endless list of charitable organizations, including the Relay For Life in support of the Canadian Cancer Society (cancer.ca), Halton Food for Thought (haltonfoodforthought.ca), Riley's Walk (rileyswalk.ca), the Canadian Fall Firefighters Foundation (cfff.ca), and many more.
This devotion to the community is only natural for Posteraro, however: "I feel that we should naturally make our community a better place to live and raise our children. There are people out there that face challenges every day—and not by choice. They may be battling cancer and need assistance. Somebody asked me the other day why do I do it all and I responded: 'Aren't we supposed to?'" He adds, "It feels strange being recognized for any of this because it's something we should be doing anyway."
And shy from it or not, recognition is exactly what Posteraro has gotten for all of his efforts—in the form of being nominated as a Scotiabank Regional Game Changer (scotiabankgamechangers.com). These are individuals nominated by their peers who are making a difference in their communities. In Posteraro's case, he was nominated by friend and fellow Milton District Hospital Foundation supporter, Anne Zujko. "Anne called to ask me if it was ok that she nominated me and then told me that the nomination was already done and up on the website," explains Posteraro, with a laugh. The best part of this "humbling" experience, says Posteraro, is that, were he to win, all of the $100,000 prize money would come back to Milton and the cause of his choosing. So get out there and vote!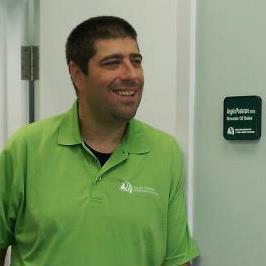 QUICK Q&A: DM: What do you think makes Milton special/unique? AP: The hometown-feeling and community involvement. People will rally around you and your cause.
DM: How do you feel about Milton's growth and how Milton is changing? AP: Change and growth is always a good thing. It helps create jobs and give us opportunities that we never had. We just need to grow at a rate the Town can handle.
DM: What do you hope all of your community involvement/charity work will do for Milton? AP: Help someone change their life. Help find a cure for many of those horrible diseases out there, especially childhood cancer. I hope to inspire others to do the same. Give Back!
DM: Where is your favourite place to go for a good meal in Milton? AP: Pasqualinos Café & Bistro (pasqualinocafeandbistro.com)—great food and Domenic is an amazing chef! Shoeless Joes (shoelessjoes.ca) is a more casual dining place but a great one. It's a great family restaurant and Sheri Fritzley is involved with a lot of fundraising. Most Thursday nights you can find Sheri at Shoeless Joes hosting a fundraiser where Shoeless Joes donates 10% of all food sales between 5–9pm. Sheri also helps out with promoting the event and setting up auction items and raffle prizes.
DM: Where is your favourite place to be outdoors in Milton? AP: Leash Free Milton (leashfreemilton.com). When I have some time, I like to take my two dogs. [Posteraro says he and his wife "have two beautiful dogs, Crosby, 2.5 years-old and Stanley, 5 months-old.]
DM: Where do you see Milton in ten years? AP: Great question. We have Wilfrid Laurier University (wlu.ca) coming and the complete hospital expansion. I hope we can keep the community bond and small-town feel throughout the years. We have a lot of great community people and leaders in Milton that can take us to the "promised land."
DM: What is your favourite book? AP: Any John Grisham book will do. I really enjoyed reading The Godfather.
DM: What is your favourite movie? AP: Rudy.
DM: Do you have any hobbies? AP: I love collecting sports' memorabilia.
By Tanya Presse, Discover Milton, www.discovermilton.com
Want to nominate someone? Email info@discovermilton.com, or call 1-888-976-4652